Wasp Nest Prevention in Colney Hatch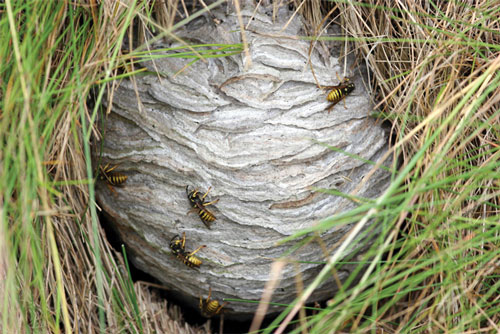 In London it is very difficult to prevent wasps building nests if they want to be there as they can gain access through very small gaps in your property. The best way that you can prevent attracting wasps in the summer by keeping things like fruit and sweet foods and beverages in the fridge and sealed containers. Wasps do not reinhabit a nest after they abandon it in the autumn/winter however they can build a new wasps nest in the same area the next year.
Where necessary, you can administer wasps prevention methods yourself. This can be done by keeping sweet food and drinks in proper storage. Another method is through the application of insecticidal dust at the entrance to the nest, preferably after dark when the wasps have returned to the nest and are not as active. The wasps will carry the insecticide into the nest, spreading it to other wasps in the colony. We offer a service for the treatment of wasps in domestic and commercial properties. For wasps prevention contact us today for a free quote.
Call us Today on: 0207 100 7991