Wasp Nest Extermination in Tooting Bec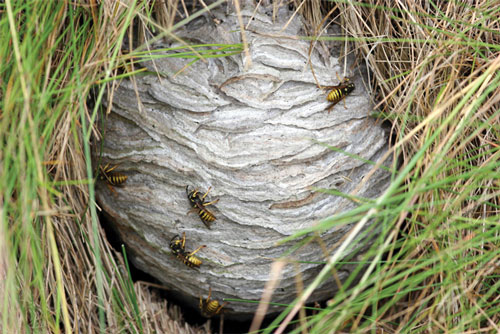 Wasps are one of the most familiar and disliked of insects. Their bodies have black and yellow bands and have a narrow waist in the mid section of the body. The worker wasps which are 10-15mm in length, queen wasps, which are 20mm long. They have two pairs of wings that lock together. Only the females have needle-like stings which is concealed near the tip of the abdomen.
We have a vast range of safe, quick and effective solutions to eliminate wasps and their nests.
There are a few different options when it comes to wasps nest extermination. One option of wasps nest removal is to wait two or three days after spraying before removing the wasps nest. Do remember to use a good residual spray such as boric acid and spray in the evening when all are in the wasps nest. Cover up with a hooded jacket and wear gloves to protect yourself from stings. Ensure all are dead before knocking down the nest or they will rebuild another one in the area most likely the same area.
No matter where the wasps nest is we can exterminate it. We cover:

Areas that are hard to reach
Lofts
In the eaves
Garden shed
Gardens
Garages
Roof
Air brick
In the wall
The wall cavity
In the fascia
Under the window
Call us Today on: 0207 100 7991